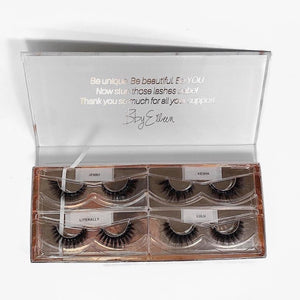 BBYEILEEN LASH BOX
Regular price
$35.00
Sale price
$40.00
DESCRIPTION:
Now you can order 4 of your favorite lashes in a bundle! Customize your very own Bbyeileen lash box with any 4 lash styles that are in stock from our Hermana's Collection, Bbyeileen Collection, & our newest Zodiac Collection.
***PLEASE CHOOSE YOUR 4 LASH STYLES BY SELECTING THE "Chat with us!" BUTTON ON THE BOTTOM LEFT OF THE WEBSITE & MESSAGING THE STYLE NAMES TO US. THANK YOU!
AVAILABLE LASH STYLES



HERMANAS COLLECTION:
ALEJANDRA LASHES
ANGIE LASHES
STEPHANIE LASHES 
VANESSA LASHES
BBYEILEEN COLLECTION:
CRY PRETTY LASHES
LILLY LASHES
LULU LASHES
SO CUTE LASHES
ZODIAC COLLECTION:
GEMINI LASHES
PISCES LASHES
CARE INSTRUCTIONS:
Lash bands are thin, which makes them extremely comfortable and easy to apply. Since the lash band is extremely thin, you must be very gentle when taking them out of the package and cleaning them. We recommend bending the packaging a bit so that it's easier to remove them.
To clean the lashes, we recommend removing the excess glue with your fingers and washing them with a some water and a tiny bit of makeup remover. If you apply mascara on the lashes, then you can also use a little bit of alcohol to disinfect them. 
Please allow 1-2 business days for processing and 2-5 business days for shipping. Orders are not shipped or delivered on weekends or holidays. 

---
More from this collection